Jennifer Connelly and cockroaches
From the big cockroach in the bathroom of the movie Once Upon a Time in America, she has never ceased to fulfill the fantasies of voyeurs.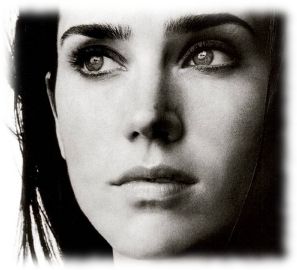 She made her film debut at age 14 in the third installment of the saga "Once Upon a Time ..." from Sergio Leone. A boy hiding in the bathroom of the bar observed her with envy through a hole while she trains in dance in an adjacent room. But this trick does not escape her, as she starts entering the bar: "There is a big cockroach in the bathroom..."
But her filmography shows that she will be more than atoned with cockroaches because it exposes her nakedness to the envy of the voyeurs in most of his films. One of his first roles was in Hot Spot (1990), in which, as the name implies, sexuality is the main theme, and where she shows herself naked in the role of a wicked girl. In Of Love and Shadows (1994) she proves that her bra is not padded. She is Jade, the prostitute and lover of a general in Mulholland Falls, which was an opportunity to present to viewers steamy scenes.
Then we move on from erotic to fantasies. Jennifer Connelly specializes in unexpected coupling. In A Beautiful Mind, is the wife of a schizophrenic. In The Day the Earth Stood Still, she does not fail to fall in love with the alien. She is also seen coupled to a green giant in Hulk.
In real life, she is more conventional, in 2003 she married Paul Bettany, whom she knew by turning the film A Beautiful Mind. They had two children who are neither green nor schizophrenic.
The diet of Jennifer Connelly
She was a vegetarian until she become pregnant for the first time in 1997, which gave her food fads. But she always follows a low-calorie diet to stay slim. So she often eats sushi or chicken, and her dinner is very light, sometimes just a salad and an apple! She loves apples and eats three a day, that gives her the energy that is lacking due to its energy-restricted diet and provides antioxidants. However, this regime should induce iron deficiency, which would contribute to its alabaster complexion, but also to poor health. Unless she take food supplements...
She also maintains its shape by practicing yoga and jogging, often running over a distance of more than 10 km.