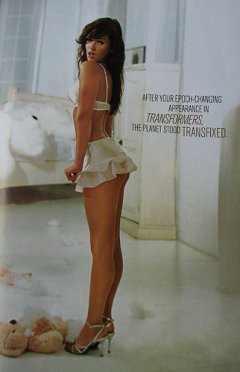 Megan Fox cleans your body with acid
Megan Fox, became popular thanks to her role in the movie Transformer, and was voted the sexiest and worst actress of 2009.
Regardless of its qualities as an actress, nutritionists warn against those who listen to his advice about diet.
Indeed she is advising to drink vinegar, as it would be a good way to cleanse the body and lose weight!
She says she does not even exercise or shrink because she loves sweets, but occasionally she cleanses her body with a mixture of water and cider vinegar!
Nutritionists are shocked and indicate that there is no any kind of vinegar that can help you lose weight. The liver is able to detoxify the body without using any adjuvant.
Drinking vinegar in the best case has no effect, and in the worst cases it can cause a stomach ulcer.
So Megan Fox, in contrast to a phonograph, is one of those beautiful things to look that it is important not to listen ...