Serum 7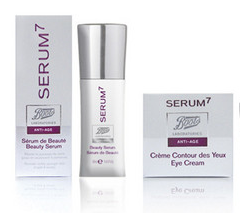 Is Serum 7 from Boots the miracle cure to erase wrinkles and rejuvenate the faces they describe in ads? This product is very successful in the UK as its ability to repair skin damaged by years was confirmed by a serious scientific and independent study.
A scientific caution
That started with a broadcast of the Horizon series of the BBC, which causes the excitement of people and whose demonstrations were subsequently confirmed by this study. The product was immediately running out of stock.
Then in two scientific journals, appeared the study by Professor Chris Griffiths and his team conducted at the University of Manchester. These are the British Journal of Dermatology and the Journal of Investigative Dermatology.
Thereafter Serum 7 becomes the cosmetic product the most sold in the country.
The Boots company
Initially (in 1846), Boots was a shop that was selling medicinal plants. It was gaining in importance and began to wholesale hygiene products and beauty. It merged in 2006 with an international group which provides the laboratory where 300 researchers are working.
In 1969 they discovered the Ibuprofen, an anti-inflammatory drug that relieves arthritis.
More information on Serum 7
The essential product of the company is this beauty serum. Its elements are:
- Antioxidants, including vitamin C.
- A firming based on white lupine and peptides.
- The pro-retinol with erasing effect.
Nothing very revolutionary in itself, but the secret is in the mix probably because a series of tests as part of the study mentioned above have demonstrated a real restorative:
- Increased fibriline, a protein consitutive of the epidermis.
- Increased procollagen. This form of collagen fibrils that form collagen, a protein that strengthens the skin.
5 products are available since September 15. But they may not have the same effectiveness as only the beauty serum is concerned by the study.