Canon with the R10 competes with the Fujifilm X-S10
Canon released two APS-C models on May 24 with the same RF mount as its full-frame models. The R7 with two SD card slots is more professional and compares to the Fujifilm X-T4. It provides enough room to insert the fingers between the grip and the large barrels of full-frame lenses, unlike the R10.

Canon R7 and Canon R10 with FF 35mm lens vs Canon M50 witth 32mm lens. (Source camerasize.com)
The R10 is more compact and competes directly with the Fujifilm X-S10 in terms of its characteristics.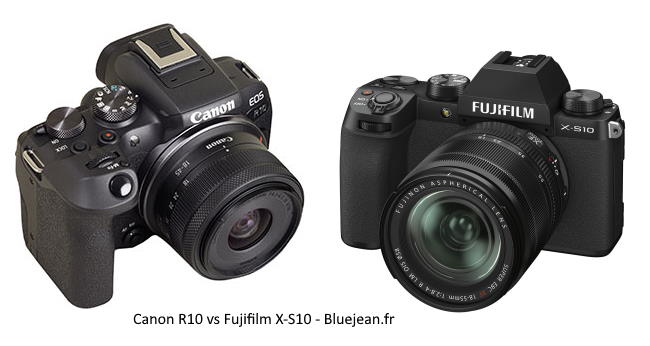 It should be noted that the R7 has stabilization in the body, essential in video, like the X-T4 and the X-S10 but that the R10 does not have it.
The R10 comes with an 18-45 lens but can also be purchased with an RF 18-150 lens. It is then an alternative to the Sony A6400 or Fuji X-S10 with 18-135 or Tamron 18-300.
Comparative table
Canon R10 + 18-45
X-S10 + 18-55
Sensor
APS-C
APS-C
Pixels (million)
24
26
Resolution in 3:2
6000 x 4000
6240 x 4160
Kit lense
18-45mm F/4.5-6.3
18-55mm F/2.8-4
Sensitivity
ISO 100-32000
ISO 160-12800
Focus points
625
425
Autofocus modes
Single - Tracking - Auto select - Face / Eye / Animal eyes / Vehicles
Single - Tracking / Contrast and phase detect / Face / Eye
Shutter speed
30s - 1/4000s
Electronical 30s - 1/16000s
30s - 1/4000s
Electronical 30s - 1/32000s
Burst
15 fps / 23 fps
30 fps
Pre-shot
-
10 images
Format of photos
JPEG, HEIF, RAW
RAW, JPEG
Format of videos
MPEG 4 / AVC H.265
MPEG 4 / AVC H.265
IBIS
-
yes
Panorama
yes
yes
HDR
yes
yes
Focus stacking
yes
-
Focus Bracketing
yes
yes
AE Bracketing
-
yes
WB Bracketing
yes
yes
Film Sim. Bracketing
-
yes
ISO Bracketing
-
yes
Double exposure
-
yes
Start
0.4s
Distortion correction
yes
yes
Timelapse
yes
yes
Video
4K 60p cropped ou 30p/24p uncropped - FHD 120 fps
4K 30p 24p - FHD 240 fps (3mn)
Video stabilisation
Digital
IBIS + Digital
Video duration
2 hours
30 mn 4K et FHD
Microphone plug
3.5mm
3.5mm
Headphone plug
-
yes
Autonomy
260 still images with viewfinder (430 with screen only)
325 still images with viewfinder
USB charge
yes
yes
Connections
HDMI - USB 2.0 Type C
HDMI - USB 3.2 Type C
Bluetooth

4.2

4.2
Wi-Fi
802.11b/g/n
802.11b/g/n 
Flash intégré
yes 6 meters
yes
Viewfinder
OLED 2360 K
OLED 2360 K 0.62x
Touch screen
Full, menu and focus
Focus / Gestures / Q Menu
Moving screen
Articulated
Articulated
Remote control
yes
Jack 3.5mm
In body editing
Converts HEIF JPEG
Converts RAW JPEG
Storage
SD, SDXC UHS-II
SD, SDXC UHS-1
Weather sealing
-
-
Size
122 x 87.8 x 83.4 mm
126 x 85.1 x 65.4 mm
Weight with battery
429g - 559g with lense
465g - 775g with lense
Year
2022
2020
Price 2022 with lens
1100 €
1000 €
Native lens comparison
Lenses which may be used without adapters. With adapters the same lenses work on both devices. Prices are manufacturer's prices as of May 2022.
Canon RF
Fujifilm X
Focal
Price/Weight
Focal
Price/Weight
-
-
10-24mm F4
900€ 410g
15-35mm F2.8
2500€ 840g
15-45mm F3.5-5.6
250€ 136g
16mm F2.8
350€ 165g
16mm F2.8
350€ 155g
-
-
16-55 F2.8
1150€ 655g
-
-
16-80 F4
800€ 440g
18-45mm F4.5-6.3
350€ 130g
18-55mm F2.8-4
350€ 310g
18-150mm F3.5-6.3
570€ 310g
18-135mm F3.5-5.6
400€ 490g
-
-
Tamron 18-300 F3.5-6.3
700€ 620g
35mm F1.8
550€ 305g
35mm F2
400€ 170g
50mm F1.8
230€ 150g
50mm F2
450€ 200g
85mm F2
700€ 500g
90mm F2
950€ 540g
24-240mm F4-6.3
1000€ 750g
50-230mm
400€ 375g
100-400mm F5.6-8
750€ 635g
100-400mm F4.5-5.6
1700€ 1375g
Check online reviews for a comparison of the optical qualities of these lenses. Since Canon seems to adapt its EF-M lenses, it is not impossible that the 22mm, 32mm and 11-22mm will appear one day in RF mount.
Reasons to choose the Canon R10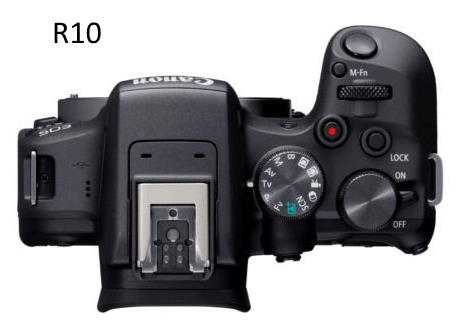 This model offers the same autofocus as the top-of-the-range Canon R6 and R3. For fast moving subjects, this is definitely an advantage.
A longer video duration according to the specification but the camera overheats after 30 mn.
HDR videos.
Slow motion in 4K at 60 fps (but with image cropping).
You can navigate the menu in touch mode.
The viewfinder cover provides better protection from the sun's rays.
Focus stacking merges in camera images with different focus.
Reasons to choose the Fujifilm X-S10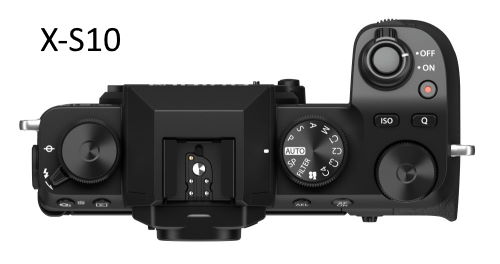 In-body stabilization helps with video and low light.
Pre-shot allow to not miss the expected moments in the action.
18 film simulations with a wheel to choose a simulation.
USB 3.2 type C connector.
Instant start in 0.4 seconds.
You can capture two images in a row and combine them into a single photo.
Wide-angle lenses and short zooms that are absent in the canon range.
The kit lens has a larger aperture and is therefore more effective indoors.
See also ...